Maryjo Faith Morgan


aryjo Faith Morgan had a vivid imagination as a child, drawing and making up all sorts of greeting cards and booklets. She worked on the school newspaper and was editor of the yearbook. Although journalism was her major, she did not pursue writing seriously as a career until 2004. First she had an amazing one and a half year long European Adventure, living steeped in Germany's culture and traveling historic Western Europe.
A brief sojourn back in Colorado was followed by two years sunning in southern California. There she found many kindred spirits in Venice at Beyond Baroque , a literary arts center. There was a writer's workshop almost every night of the week, and she dabbled in fiction, non-fiction, poetry, and screenwriting. Suddenly, everywhere she looked there were topics that she had to write about, stories clamoring to be told.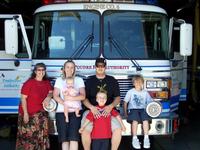 The truth is, Maryjo finds people infinitely interesting, their unique stories fascinating. Her descriptive writing style adapts to a wide range of subjects. Each assignment is an opportunity to delve into something new and give it her fresh perspective. Interviewing and researching fit well the broad pallet of her varied interests. Happily, she has come full circle and remains deeply immersed in her ultimate passion ~ words ~ and worlds created by them on the written page.
To see some of her publications, i.e. Chicken Soup for the Soul, 5280 - Denver's lifestyle magazine, and other newspapers and magazines, visit:MaryjoFaithMorgan.com.